Trexo Plus
A physical therapist's newest robotic gait training companion.
You want what's best for your clients.
Level up your gait training services with Trexo Plus robotic gait trainer.
Increase the number of reps
Trexo Plus will provide a highly repetitive and consistent gait pattern at a speed you choose, without getting tired.
Go out and about
With the Trexo Plus, you don't have to stay in one room. Walk overground and explore your environments.
Fun activity together
The Trexo does the hard manual labour so that you can do the important stuff, like bonding with your clients.
One device. Endless possibilities.
Trexo can be used by children
with a wide range of conditions
Trexo's adjustability makes it a versatile tool to help most children with different levels of disability experience independent walking.
Children with the following conditions may be able to use the Trexo:
Cerebral Palsy
Traumatic Brain Injury
Spinal Cord Injury
Hemi & Paraplegia
Muscular Dystrophy
Neuromuscular Conditions
Stroke
Rett Syndrome
Other conditions which impair lower body mobility
Trexo Plus: A range of features to create the perfect walking experience
Custom gait for each user that can be changed over time
With the Trexo Plus, setting the gait pattern is easy. Simply move the child's legs within their range of motion and the Trexo will remember it for you! You can easily adjust:
Gait pattern
Speed of steps (cadence)
Amount of weight bearing
Level of support provided
Two modes: endurance and strength
Trexo's adjustability allows you to adjust and modify the gait while the child is walking, so that you can always provide the best experience.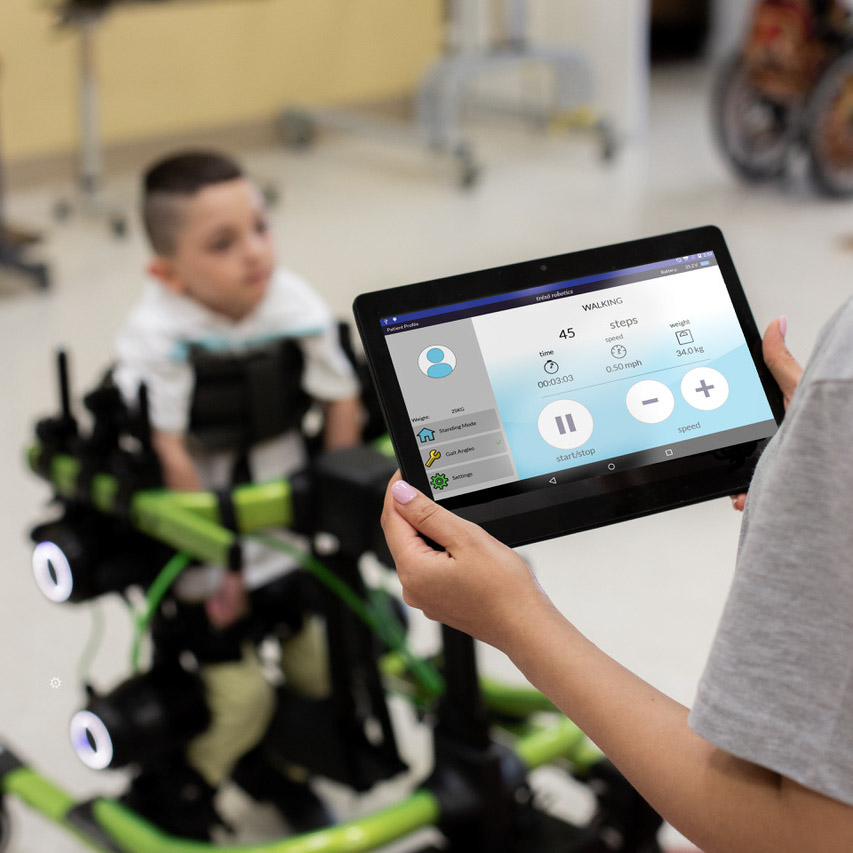 Data to guide your sessions and keep you on track
Trexo is tablet operated. This gives you easy access to control the speed of the gait and monitor each child's session with individual profiles. You can easily monitor:
Number of steps taken
Initiation (whether your child is actively participating)
Time spent walking
Speed of walking
The tablet stores the session data for each user so you can see the progress over time and use it to guide your decision making in the future.
Battery powered to use whenever, wherever
Trexo converts a Rifton Dynamic Pacer into a robotic gait training device that you can use both in and outdoors.
Hospitals who use the Trexo have incorporated it with:
exploring hallways
walking side by side with family
hide and seek
retrieving games
Since the Trexo is mobile your clients can participate in different activities at each visit. Variety is always more fun!
Read what facilities have to say about the Trexo Plus
Not only is the Trexo a great tool for allowing the parents to give their kids really good activity in terms of patterning and alignment, really consistent stepping pattern, but they can do that without putting a really big strain on their body.
It's a great tool that parents can use at home to keep the kids moving, to get them upright everyday.
The benefits of this device is endless. Being able to use this device on a regular basis just to fine tune their gait pattern, stretch out their muscles, and improve their gait styles would be very beneficial!
Still not sure if the Trexo is right for your facility?
Our sales representatives are ready to answer all your questions!